Hey all my favorite people!!
I found this FABULOUS hop through Twitter, and thought what a great idea to give away some Indivisible swag!! SO I've signed up for this hop and will be posting on all three days with information about how to win some Indivisible goodies!
What - Easter Hoppin Blog Hop Giveaways
When - 12:01 AM April 15th until 11:59 PM April 17th
Where - All around the blogging world!
These dates were choosen because we did not want to take time away from your family and other things going on easter weekend
How this will work:
~Each blog participating is hosting a giveaway of their own. The spending maximum should be around $20, and your giveaway can be anything you would like. Books, bookmarks , swag, coffees, teas, hand made crafts, anything you would like.
~All blogs participating in the Easter Hoppin Blog Hop Giveaways will be linked up through the linky below.Then you can just copy the code from the below linky and add it to your giveaway post. All blogs will be linked together from this automatically on each blog for the Easter Hoppin Blog Hop Giveaways.
~Please keep the steps to enter your giveaway as simple as possible. The long lists of many different things followers can do to earn extra entries tends to scare people off.
~Please help spread the word. Feel free to copy this post, or write a post of your own. The more blogs participating the better! It will mean more visitors and new followers for your blog. We have created a Easter Hoppin button and have added it below for you to paste it everywhere!
~Giveaways can be open to ship anywhere you would like
~If you have any Questions please email Danielle: dhester23 AT yahoo DOT com
~Please create your Easter Hoppin Blog Hop Giveaway post before the giveaway starts. Set it to post at 12:01 AM on Friday April 15th.
Easter Hoppin Blog Hop Sign Up
To sign up please add your name and where you are willing to ship to the linky below
The Last Day to sign up is Tuesday April 12th .
Don't forget to grab the Easter Hoppin Blog Hop Giveaway button
Photobucket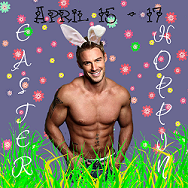 In the Link Below Please include
~ Your Blog Name
~ Your Blog Link
~ Where you will ship to
( exp: US only, or World Wide )
This is a Blog Hop! 56 entries so far... you're next!